---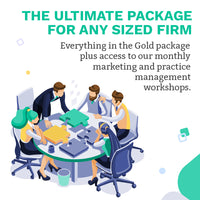 Total Practice Platinum Membership  - $599.00 Annual Subscription.
The membership will renew automatically unless canceled. 
Unlimited 24/7 access to 100+ downloadable self-study courses* covering the latest tax law changes.
Courses range from 1-24 CPE credits
Provides online grading & instant CPE certificates
Includes access to the digital edition of the Big Book of Taxes 365 updated year round.
Includes membership to the ClientWhys Connect Technical Support Tax Forum. You can post technical questions, give product recommendations, exchange important information, and do so much more.
Includes the 16-hour 2023 Virtual Tax Update and Review Webinar (broken down by session)  plus the 6 hour California Differences State webcast **
Access to our monthly On Demand WebCasts covering new tax law and topic specific presentations 
Practice Management and Marketing Workshop library and monthly updates
*Does not include Premium courses

Looking to add additional staff members?

You can add additional users to your Total Practice Platinum Membership at any time. Upon checkout, you will need to provide the Primary member and the company name at the time of purchase. A TaxCPE representative will set up each member account for you.

Order additional members here starting at $389 per user.